Your 2020 Burnout Recovery Plan
And why you need to know about regenerative agriculture
Good morning! Coming at you later than usual because I went up to our little local ski hill for a morning lap and it turns out you're really slow when you're just learning to ski. But I made it, and I think that's what counts. Oh, and I finally paid a visit to the BootDoctors up in Taos, and wow! Skiing is a lot more fun when your shins aren't being banged to a bruised pulp. I think this sport is finally starting to grow on me.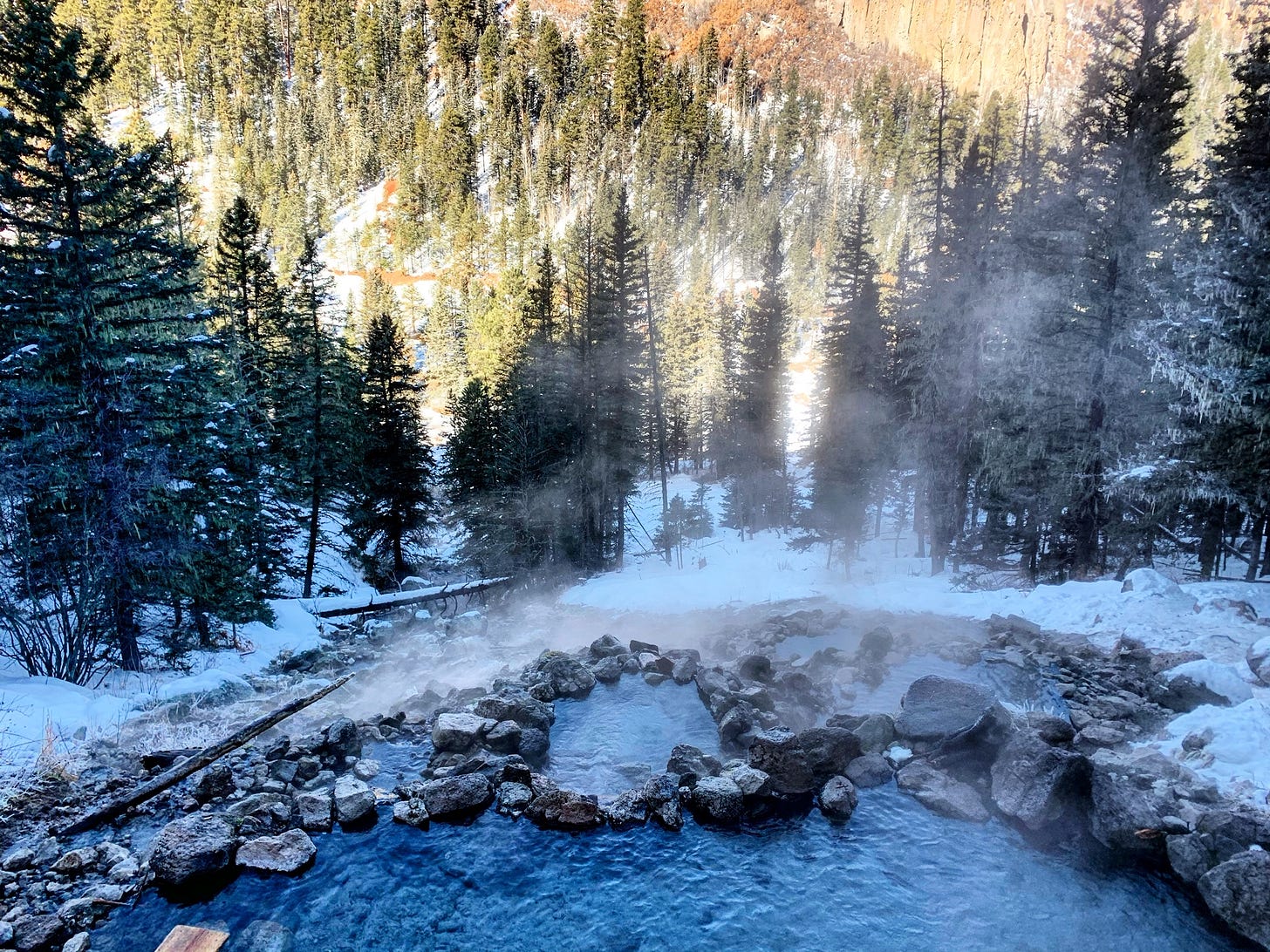 Anyways here are some nice hot springs from the weekend. Wishing everyone a great week. Let's get to it.
What I'm reading
Why You Need to Know About Regenerative Agriculture: Why companies as diverse as Patagonia and General Mills are suddenly focused on getting dirty. [Heather Hansman for Outside]
Indigenous Runner Rosalie Fish Runs for Her People: "When I went into the first race, I was still in this idea that 'I want to get three or four gold medals.' And, after I spoke to Jordan, it was, 'How can I run this race in a way that makes sure that I still have energy for the race a few hours away so that I can represent each of these women with integrity and with strength?'" [Eilís O'Neill for WBUR]
Your 2020 Burnout Recovery Plan: Work hard, play hard—that's how many of us live today. But it turns out that our supercharged lives aren't so great for us, and fitness experts and doctors are now emphasizing restorative practices and rest to improve performance and overall health. [Florence Williams for Outside]
Power Women of the Year: These women are game changers, rule breakers, and trailblazers. They are ones to watch, ones to cheer for, and ones to be inspired by in this upcoming year. [Women's Running]
I Loved Bike Touring—Until I Got Paid to Do It: Seduced by the idea of turning my hobby into a paycheck, I led bike tours across the U.S. throughout my twenties. As I learned, some passion pursuits are best left pro bono. [Caitlin Giddings for Outside]
The Fine Art of Teaching Your Significant Other to Ski: In which I ask Blair how to set realistic expectations for my partner, who's teaching me to ski, and she tells me to have fun and other smart things. [Blair Braverman for Outside]
Go, Michelle!
Last but not least