#WomenWhoHunt Is Instagram's Most Fascinating Subculture
Plus: Six women. Four days. Nearly 3,000 miles. All in the name of civil rights.
Good morning! Thanks for bearing with my continued sporadic send schedule these days. But really, what is time in 2020 anyways?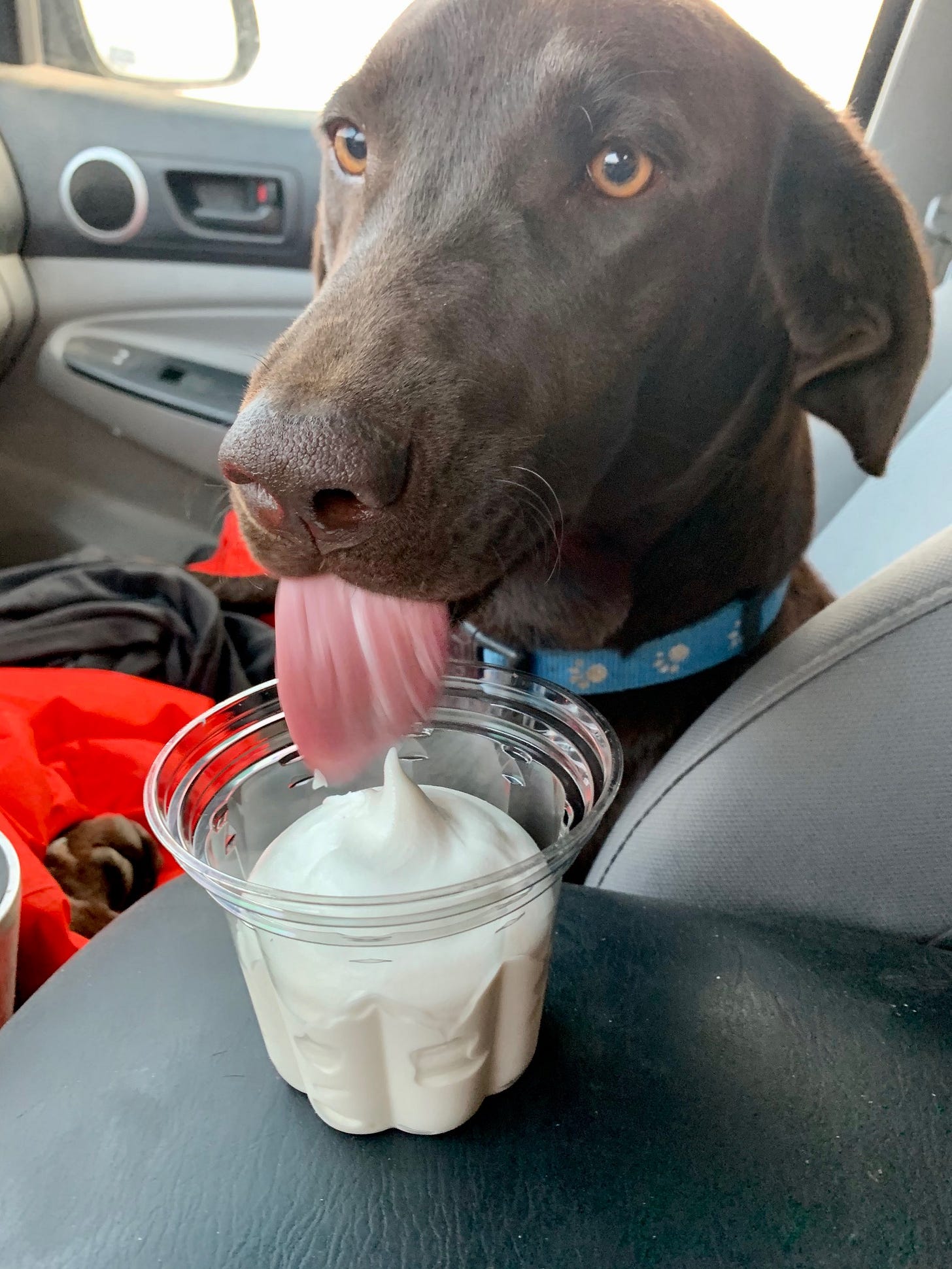 I'm back from a long weekend and just like that, that's a wrap on summer. The highlight of the season in the Wise-Mushen house: Squeaker's first soft serve.
What I'm reading
What It Means to Be Black in Fitness: The fitness professionals demanding change. [Rozalynn S. Frazier for Self]
Social Media Feels Increasingly Toxic. What Do I Do? By setting boundaries around what you post, when you're online, and who you surround yourself with in real life, you can strike a better balance between Instagram and reality. [Blair Braverman for Outside]
#WomenWhoHunt Is Instagram's Most Fascinating Subculture: A new school of social-media influencers are giving hunting a fresh and decidedly female face. Our writer joins two rising stars of "huntstagram" in the Arizona backcountry to chase mule deer for her first time—and see if she can stomach what it takes to be an omnivore. [Rachel Levin for Outside]
Meet the Black Women Who Rode Motorcycles Cross-Country to the March on Washington: Six women. Four days. Nearly 3,000 miles. All in the name of civil rights. [Andrea Stanley for Cosmo]
Everything You Need to Know About Period Tracking: A handful of apps are rebranding the menstrual cycle as a female athlete's untapped superpower. Here's what you need to know about them. [Christine Yu for Outside]
Who's Allowed to Find Healing in Nature? As the pandemic keeps us isolated from one another, many are finding respite and refuge outdoors. But communing with nature has long been a privilege in the United States, not a right afforded to everyone. And the notion of "pristine" nature, untouched by humans, as more real somehow than other nature, as the true order of things — that's fantasy, and a misrepresentation of our relationship to the natural world. [on The Cut Podcast]
It's Time for Outdoor Brands to Make Clothing for All Women: When companies don't offer plus sizes, that sends a message about who is and isn't welcome in the outdoors. [Jessica Tackett for Backpacker]
We Lost Our Home to a Wildfire: "The day after you left for college, it burned to the ground in a wildfire caused by lightning in the most beautiful storm I have ever seen. I believe it served its original purpose fully and completely." [Wallace J. Nichols on Outside]
Last but not least