Where Were the Women in Matchstick's New Ski Film?
Plus, on mushrooms and mansplaining
And just like that, summer's over. I hope yours went out with a bang. I spent mine running an aid station for a local race and catching up on work.
While I'm tempted to say I'm sad to see summer go, I've always been a sucker for chilly mornings, changing leaves, and pumpkins. Bring it on, fall.
(P.S. The puppies say hi ⬇️)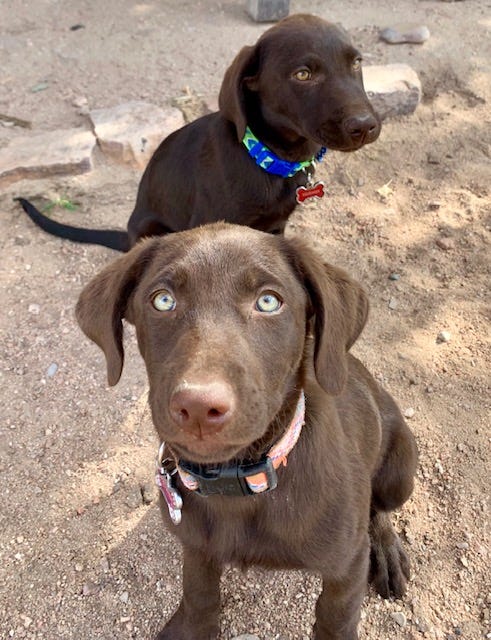 What I'm reading
Latino Outdoors Doesn't Want to Be Extreme: The leaders who have grown it into a nationwide organization talk about where they aim to take it next. [Andy Cochrane for Outside]
Greta Thunberg Is the Saint We Need: To sail 3,000 miles across the Atlantic takes remarkable courage, but to traverse unpredictable seas on a zero-carbon yacht is a feat unlike many others. And for a teenager to make the epic journey? Is it possible? Yes. [Charlotte Kaufman for Medium]
On Mushrooms and Mansplaining: How to handle ego in its many (sometimes potentially deadly) forms. [Blair Braverman for Outside]
Woman Wins 50K Ultra Outright, Trophy Snafu for Male Winner Follows: When Ellie Pell took first overall, the surprised race organizers realized they had no trophy for the first place male. [Hailey Middlebrook for Runner's World]
Where Were the Women in Matchstick's New Ski Film? A year after groundbreaking inclusion, the on-screen slopes are back to a bro fest with 'Return to Send'er.' [Allison Williams for Outside]
Last but not least