What Remains of Bears Ears
Plus, the case for fur
Hi there! I hope your weekend was rad. I spent some time climbing at one of our local crags, a welcome change after hitting the same wall all winter.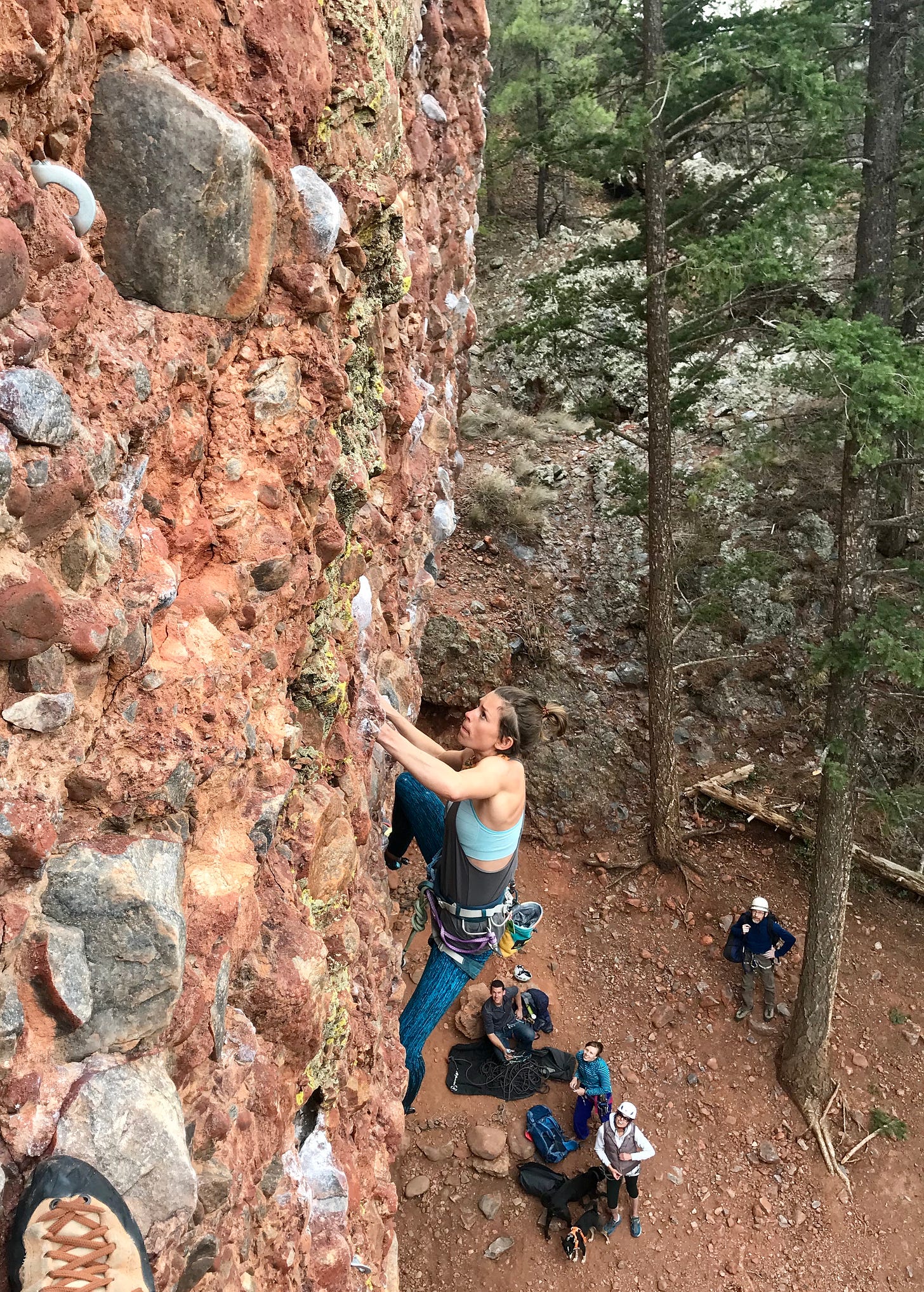 Sooz crushing her long-standing project
Here's to a productive Monday.
What I'm reading
'Downriver' Is an Adventurous Lesson in Water Policy: Heather Hansman's new book is a must-read for anyone who loves rivers or is concerned about the future of the West. [Hilary Oliver for Outside]
Burning Man Meets REI: Outpost wants to disrupt the outdoor gear trade show business. Our writer descended on its California festival last fall to check out the felt hat-wearing, Bulleit bourbon-sipping crowd and to find out whether the buzzy experience is anything more than an Instagram-ready fad. [Claire Martin for Outside]
Equality at the Boston Marathon Is Long Overdue: To all the dudes who are upset about the new rules for prize money, it's time to get over it. [Erin Strout for Women's Running]
In Defense of Fur: When we judge gear purely by its appearance, we're playing by the shrink-and-pinkers' rules. [Kelly Bastone for Outside]
What Remains of Bears Ears: Utah's politically contentious southeast corner is a living landscape of culture and civilization. [Joe Fox, Lauren Tierney, Seth Blanchard and Gabriel Florit for The Washington Post]
Getting Over My Cleansing Obsession in the Desert: Feeling hemmed in and obsessed with purging the toxins in her life, the author heads to the hot springs of the Chihuahuan Desert. [Jenn Shapland for Outside]
Other reads
"Commonwealth v. Mohamed," by Margaret Redmond Whitehead for The Atavaist. A car crash in Kentucky left a 13-year-old girl dead. A Sudanese refugee was charged with her killing. Could anyone get justice?
A week after the men arrived at the airport, during orientation, I asked if they had any questions. This was a time when clients typically asked me to repeat the details of their transitional benefits, like food stamps. Abdallah, leaning on the table around which the men were sitting, raised a hand.

"How can I be a good neighbor in America?" he asked.

I looked at him, astonished. His brown eyes, ringed in thick, dark lashes, stared back at me. He held a pen in his long fingers, waiting to write down my answer. "Well," I said, "you can help your neighbor take in the groceries."

He scratched that down with his pen and asked another question.

"Where can I volunteer?"
Last but not least