"We Are Not a Challenge. We Are an Opportunity."
Plus, armpit hair, workwear, and fat bears

Hey readers! I know I'm late on this week's newsletter, and I missed last week's. It's wedding season, work has been busy, I've been traveling, and I have about five more excuses for my tardiness, but I'll spare you the details and do my best to get back on sending track.
Last week (and this one so far…) was a rough one for women, and the only thing that's made me feel even the slightest bit better is my friends. The ones who I just got off of a three-way Skype call with. The ones who have been texting to check in to make sure their friends are OK. It's a reminder that even when it feels as though we haven't made any progress since 1991, there are still people out there who believe in justice and believe women. So if you feel sad, disappointed, and angry, reach out to your friends. See how they're doing, set Skype dates, and send memes about the fall of the patriarchy. Know that I'm sending hugs your way, too.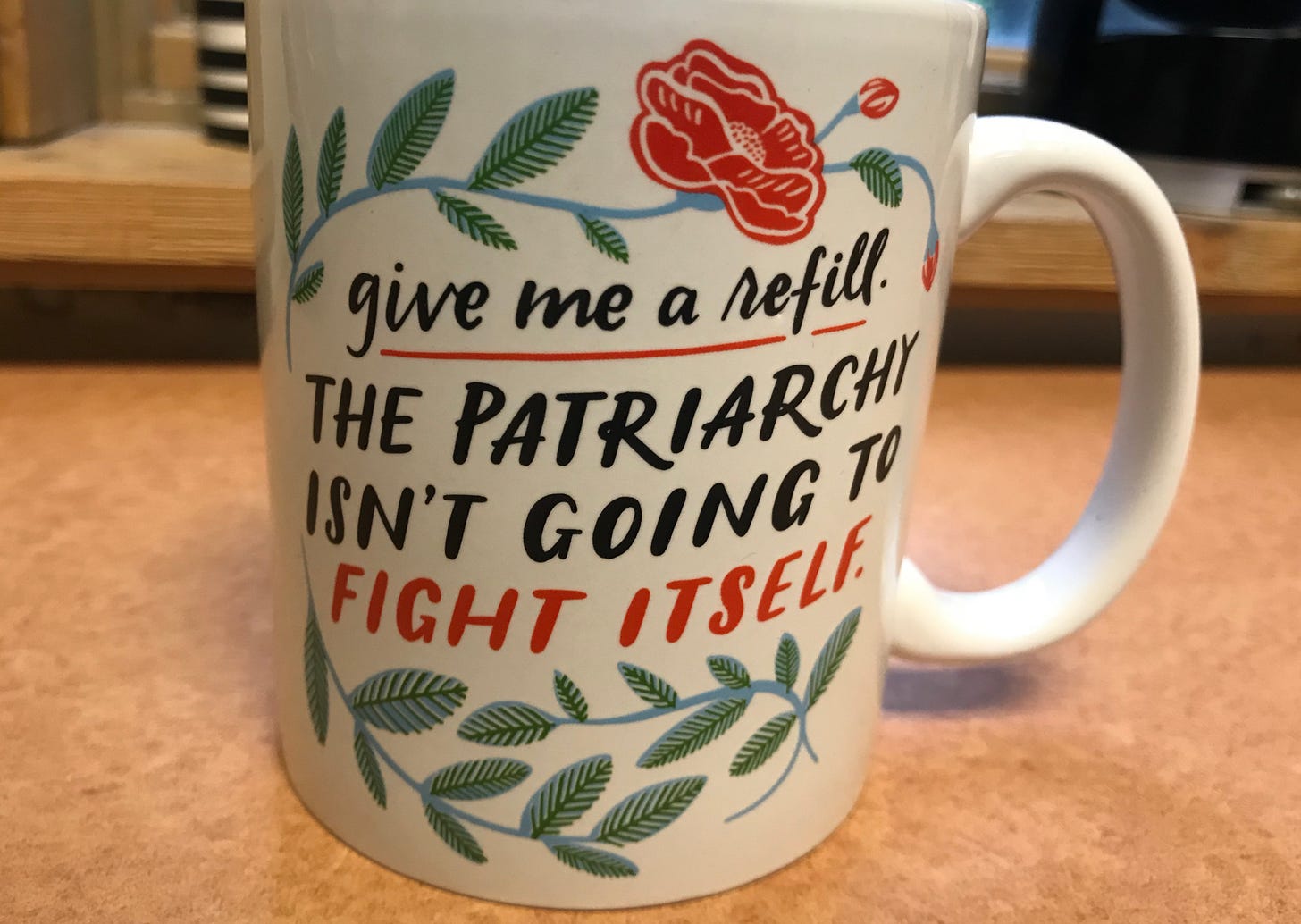 My friend Monica gave me this mug about a year back, and I've never loved it more.
Anyways, back to business.
The Glory of Otis, Fattest of the Fat Bears
In happier news, Erin Berger wrote an ode to Otis.
Imagine if your sweet aunt ran ESPN's college football Facebook page, and all the commenters came from Old Friends Senior Dog Sanctuary's page, but with the exact same disdain for discrete use of caps lock, exclamation points, and ellipses as Cher on Twitter. That's about the vibe of Fat Bear fan culture. Their images demonstrate a rudimentary knowledge of Photoshop and their memes a rudimentary knowledge of what a meme is, but what saves them is their endearing earnestness and deep bench of blubber descriptions. "Winter Is Coming," reads one image of Otis pasted on the iron throne. "Game of Fats: The North Remembers 480 Otis." A typical meme employs the standard white text at the top and bottom of a bear photo but fails to execute any joke: "Vote for Me…Otis (Bear 480): I'm the Fattest Bear in the Park."
What I'm reading
"Help! I Hate My Girlfriend's Armpit Hair" In a world of sexist social norms, how to be respectful of what you're into while being respectful of other people's choices [Blair Braverman for Outside]
An Axe for the Frozen Sea: This is what child's pose used to feel like—the relaxation, the release—but yoga isn't working for me right now. Neither is bourbon—I've been drinking too much—or sleeping—not much at all—or deep breaths or petting dogs or social media breaks or any of a thousand things we do to stay calm, don't tell me to be calm. I am not fucking calm. I could explode this city with my rage. I let go of the axe. [Megan Stielstra for the Believer]
Women's Workwear Is on the Rise: Thanks to a deep focus on fit and function, the women's workwear industry is booming. [Emily Wolfe for Outside]
Flip the Script: We are not a challenge; we are an opportunity. And the opportunity lies in reimagining what the environmental movement is, and actively dismantling some of the barriers we face. [Aparna Rajagopal-Durbin for Earth Island Journal]
The Early Female Aviators Who Changed the World: Nearly a century ago, a small group of women pilots flew terrifying early airplanes, broke flying records, and raced—and beat—male pilots in air races. [Kate Siber for Outside]
Other reads
Christine Blasey Ford and the Curse of a Woman's Poise, a New Yorker piece by Alexandra Schwartz:
We know the extent to which a woman's credibility depends on her demeanor during crucial moments of scrutiny, and there is one quality that counts above all: poise. Never have I heard a man described as poised—unless he is "poised for action," or "poised for success." Poise, in the common imagination, is a female quality, the demonstration of steel and grace under pressure.
Last but not least
My friend Shannon Davis wrote about something very funny (though surprisingly effective):
Like the Shake Weight and Thighmaster before it, the RipRow puts you in some, let's say, evocative poses. One in particular. Repeatedly. Mechanically. Thrustingly. On an elevated stage of sorts, no less. So, after I picked one up to test, I dragged it into my home office so I could RipRow in privacy. Then I called up some beginner training videos on the brand's website. There are several moves, both suggestive and non.

"Wow," my wife deadpanned when she peeked in. "What's all this pumping and grinding doing for you?"

"It's making me a better mountain biker," I said. "I'm gonna shred."

"Good luck with that."