The Forest Service Is Silencing Women
Plus, closing the pay gap in surfing and working out shirtless

Hi readers! Apologies for the radio silence last week. Over the weekend, I met up with some of the raddest ladies I know to run around the desert, eat a lot of snacks, and bond over our deep love for dogs, shooting stars, and public lands. All in all, I'd call it a success. 🌵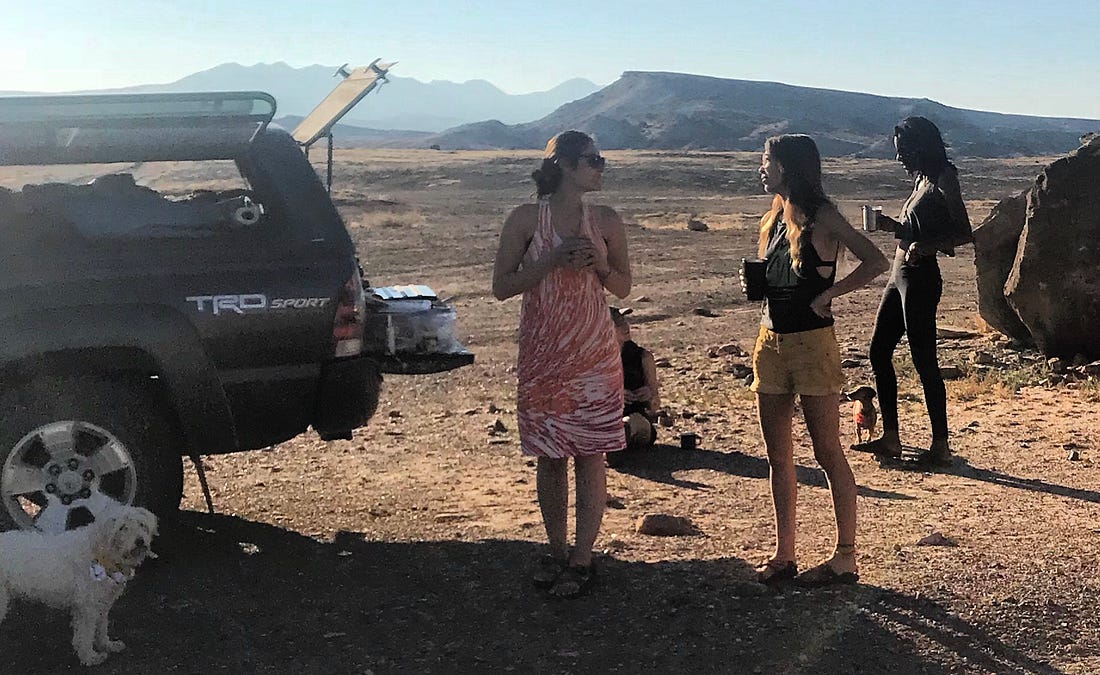 Back to business.
The suicide clusters that threaten mountain towns
Kate Siber wrote an incredibly moving and important story.
Over the months that I researched this story, I grappled with my own role and responsibility. At first I tried to be a detached observer and meticulously follow the guidelines for journalists covering suicide—don't glorify the dead, don't describe the means of death, don't depict community outpourings of grief—to the extent that I was too paralyzed to write.

Then I started to have dreams about those lost to suicide, as if the feelings that came up after listening to so many people cry in my office needed to come to the surface. After one particularly vivid dream, I awoke in a state of intense horror and compassion—I felt like I had been punched in the stomach and had the wind knocked out of me. I was rattled and teary for the rest of the day. I realized that the only way to really understand the issue was to allow myself to be touched by the messiness and devastation of it all. Many of the people I talked with also wanted to help but, like me, were afraid to say or do the wrong thing. Perhaps it's better to talk about it imperfectly than not at all.
What I'm reading
The Forest Service Is Silencing Women: For decades, women in the Forest Service and U.S. Department of Agriculture have been trying to bring justice to those who have discriminated against them. A new investigation reveals that the inaction is due to a much larger problem: a system set up to make their complaints go away. [Kathryn Joyce for Outside]
Equal Waves, Equal Pay: World Surf League closes its gender pay gap. [Alana Glass for Forbes]
I Witnessed Rob Krar's Greatest Victory. It Wasn't Winning an Ultra. "Standing in the middle of Leadville, Colorado, in Rob I see light, however fleeting, that I want for all the people I know who fight the same afflictions. And I wish I could somehow crew them all to their own personal victories." [Erin Strout for Runner's World]
Inside the All-Female Trek to the North Pole: A dozen women brave polar bears and frostbite to walk, ski, and trudge to the top of the world. It's a bonding exercise, yes, but also a unique chance to study the female body in extremis. [Jane C. Hu for Wired]
I Took My Shirt Off and So Should You: The everywoman's guide to exercising in just a sports bra. (You're going to need some high-waisted leggings.) [Jen Spyra for The New York Times]
Backpacking Is My Respite from Sexual Harassment: And I resent that I'm safer in the woods than I am in the place I live. [Sarah Grothjan for Outside]
Other reads
"It Was Us Against Those Guys": The Women Who Transformed Rolling Stone in the Mid-70s, by Jessica Hopper for Vanity Fair:
For the most part, it was entirely men leading this charge. Robin Green was the first woman to write at the magazine, in 1971, but her tenure was brief. In the early 70s, the only women on the editorial floor were secretaries, ambitious young women with master's degrees and years of experience primarily charged with answering phones. In January 1974, a 28-year-old feminist named Marianne Partridge began to change that, quietly changing the shape of Rolling Stone from inside, and eventually putting six women on the Rolling Stone masthead. Their stories have historically been obscured by the long shadows of the men they worked for and wrangled—Hunter S. Thompson, Joe Eszterhas, Cameron Crowe—but the history these women recall is the story of how Rolling Stone became a true journalistic endeavor, and the story of women learning to speak for themselves decades before topics like sexual harassment and equal pay became mainstream.
Last but not least
The best way to start your week is with a healthy dose of feminism.
While we're on the subject of Nike...Here's their latest Mexico ad🇲🇽 pic.twitter.com/z2xOwmkQFO
September 4, 2018