Sarah Marquis Is Breaking Up Exploration's Boys Club
Plus, today is Indigenous Peoples' Day
Happy Monday, everyone! I'm writing to you from the very cold and snowy (yes, it's still October) Minnesota.
Apologies for missing last week's send. I was dogsitting for a friend, and, well, time got away from me.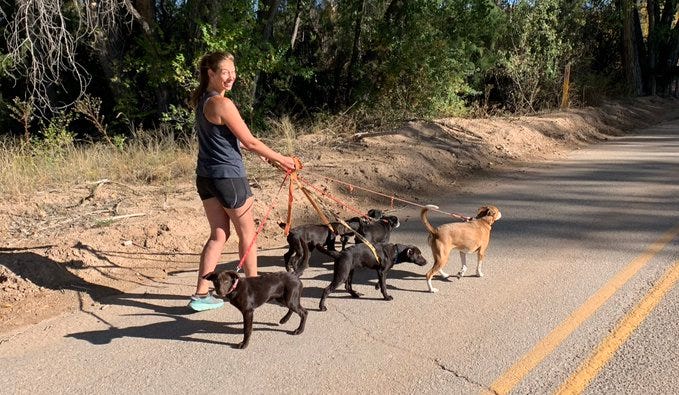 Let's get into it.
Today is Indigenous Peoples' Day
Some of North America's most popular sites hold great spiritual significance to our continent's indigenous communities. But many residents and visitors know little about the cultural importance of the places they adventure on. A growing indigenous-led tourism industry is working to bridge that gap, opening up Native lands and leading hikes, cycling tours, and multi-day trips that explore their histories. On October 14, the U.S. government will recognize 566 indigenous tribes and Canada will observe 634 First Nations, as well as Métis and Inuit communities, for Indigenous Peoples' Day. With Native American Heritage Month and both U.S. and Canadian Thanksgivings also coming up, now's the time to reflect on those stories and engage with the living cultures of the present.
[Stacey McKenna for Outside]
What I'm reading
Sarah Marquis Is Breaking Up Exploration's Boys Club: She walks across entire continents. She has a Spidey sense for alligators and avalanches. And she is redefining what it means to be a modern-day explorer. [Bill Donahue for Outside]
Jessica Nabongo's Lessons from Visiting Every Country: "A lot of people ask me which countries are safe for black people to travel," Nabongo recently wrote on an Instagram post from the Seychelles. "This question typically comes from black Americans. The U.S. has perfected racism in a way that I've not seen in other countries, so I would urge you to travel WHEREVER you want to, no matter who you are and what you look like." [Alexandra Talty for Outside]
The Runners Alliance Tool Kit: A collaboration between Runner's World, Women's Health, Garmin, and Hoka.
Who Owns the Wild: Grizzlies or Humans? Somer Treat has run the trail where a grizzly bear killed her husband, Brad, nearly every day since his death in June 2016. Brad was mountain biking on a national-forest trail near Glacier National Park when he came around a blind corner and rode straight into a bear. Somer, 40, doesn't blame the grizzly. With her husband going 30 feet a second, the animal just didn't see him coming. [Nick Mott for Outside]
Will 'Akuna' Robinson's Triple Crown Was Only the Start: After becoming the first African American male to complete the triple crown of thru-hiking, Robinson is sharing his own experience to encourage more people to get outdoors. [Kathryn Miles for Outside]
For the First Time in Its 147-Year History, Yellowstone National Park Has a Female Chief Ranger: For 147 years, Yellowstone National Park in Wyoming has been overseen by a parade of chief rangers, all of them men. Until now. [Elizabeth Wolfe and Saeed Ahmed for CNN]
Meet One of the First Women on Everest in 'Rising': In 1986, Sharon Wood became the first North American woman to climb the world's tallest peak. Now she's opening up about her experience—on and off the mountain. [Jayme Moye for Outside]
Listen: Fat Bear Week Crowns a Queen and Educates Ursine Health: The fatter the bear, the more likely they are to survive the long winter. [Erin Berger on the radio]
Has Overtourism Killed Big Sur? The once idyllic coastal area of California has been besieged by tourists, and residents worry that lasting environmental damage is being done. But how can you tell visitors not to come when tourism supports so many? [Josh Marcus for Outside]
Congrats, Shannon!
Big shoutout to my friend, mentor, and new boss of Backpacker <3
Effective November 1, Shannon Davis will join Backpacker as editorial director; simultaneously, longtime editor-in-chief Dennis Lewon will assume the new role of Director of Content across the group portfolio.
Last but not least
Chloe goes to college: