Outdoor Meccas Are Not a Social-Distancing Hack
Plus, can the outdoors save guys from themselves?
Hey everyone. I hope you're OK. I wrote maybe six introductions to this newsletter today. None of them felt right. It's hard to get up and go to work (from my kitchen) and be upbeat these days. But, for me, it's important to keep moving. I'm a doer. I'm the person who stress cleans, who gets up at 7 a.m. to run….on weekends, and who's typically overbooked every week of my life. If you're like me, staying home isn't easy. So I've kept moving. I spent Saturday and Sunday cleaning and organizing the house, and finalizing some of the last plans for finishing the big adobe my partner and I are working on. I ran the dogs (in our very remote backyard, where I did not see a single human). I repotted my plants. I sowed some seeds a friend gave me a few months ago. I cleaned my truck and did the laundry. Anything to keep myself from scrolling through the news once an hour.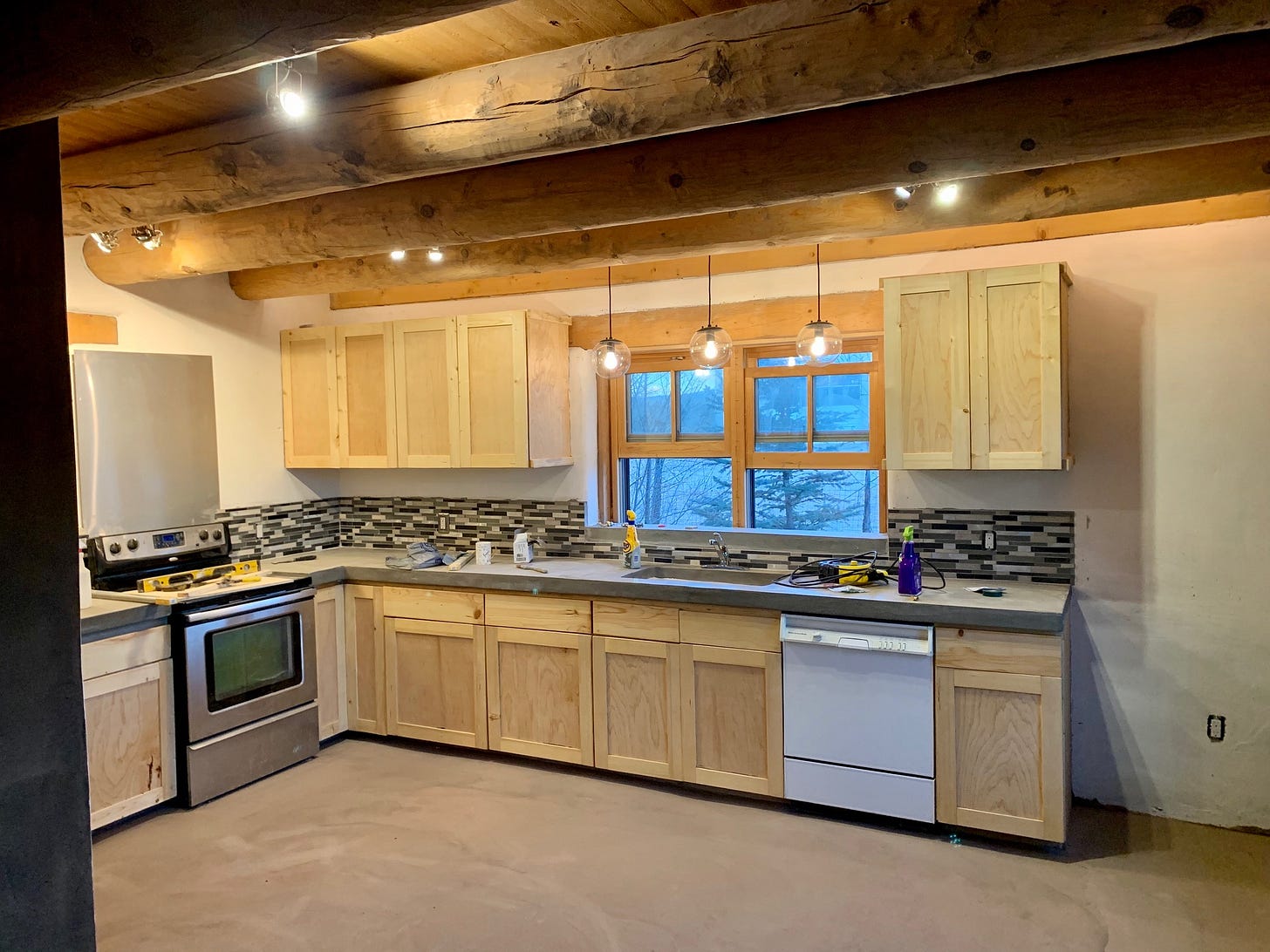 As we continue to finish the house, I plan to spam you all with adobe porn. I hope you enjoy. Our kitchen is getting there. Our dishwasher is old af, but it is a dishwasher. Not pictured: a real life garbage disposal, too!
😭
But, of course, I still did a lot of reading. So here's what that consisted of.
What I'm reading, the COVID-19 edition
Outdoor Meccas Are Not a Social-Distancing Hack: As wilderness hubs like Bishop and Moab shutter their gates to visitors, what's an outdoor lover to do during a pandemic? We're here to help. [Christopher Solomon for Outside]
With the Boston Marathon Postponed, Des Linden Hits the Couch: Linden was planning to run two marathons 51 days apart. Nuts? Her blood work suggested it wasn't. Then a pandemic intervened. [Matthew Futterman for The New York Times]
The Ethics of Thru-Hiking During the COVID-19 Pandemic: Despite the coronavirus, you can legally thru-hike the Appalachian Trail right now. But should you? [Grayson Haver Currin for Outside]
How Runners Are Getting Creative During the Pandemic: With every race canceled, runners face logistical and ethical dilemmas. Some have turned to unusual solutions. [Martin Fritz Huber for Outside]
What I'm reading, the think-about-something-else edition
Fires Left These Wallabies Nothing to Eat. Help Arrived From Above. Tons of carrots and sweet potatoes have been dropped from a helicopter in Australia to feed the threatened marsupials. [Matthew Abbott for The New York Times]
Can the Outdoors Save Guys From Themselves? Men suffer higher rates of suicide and drug abuse than women. Many are anxious and lonely—and, as a result, they're all too often angry and violent. Wilderness Collective thinks the solution lies in open spaces, UTVs, and fireside talks. But is that enough? [Chris Colin for Outside]
The Plan to Turn Half the World into a Reserve for Nature: Scientists and conservationists are proposing that up to half of Earth's land and oceans be protected for nature. Is it a necessary step or a pipe dream? [Jim Robbins for BBC]
Wylder Goods Is Closing Up Shop: And it will be greatly missed. Thank you for caring about women. [on Wylder's site]
Get Happy: You can now enroll in Yale's popular course on happiness for free. (on Coursera, h/t Molly Mirhashem for finding this one)
Last but not least