In Praise of the Adventure Dress
Plus, an ode to Mountain time
This weekend was a much-needed reset for me. I took one of my dogs on a solo mission up to a couple alpine lakes and enjoyed the view.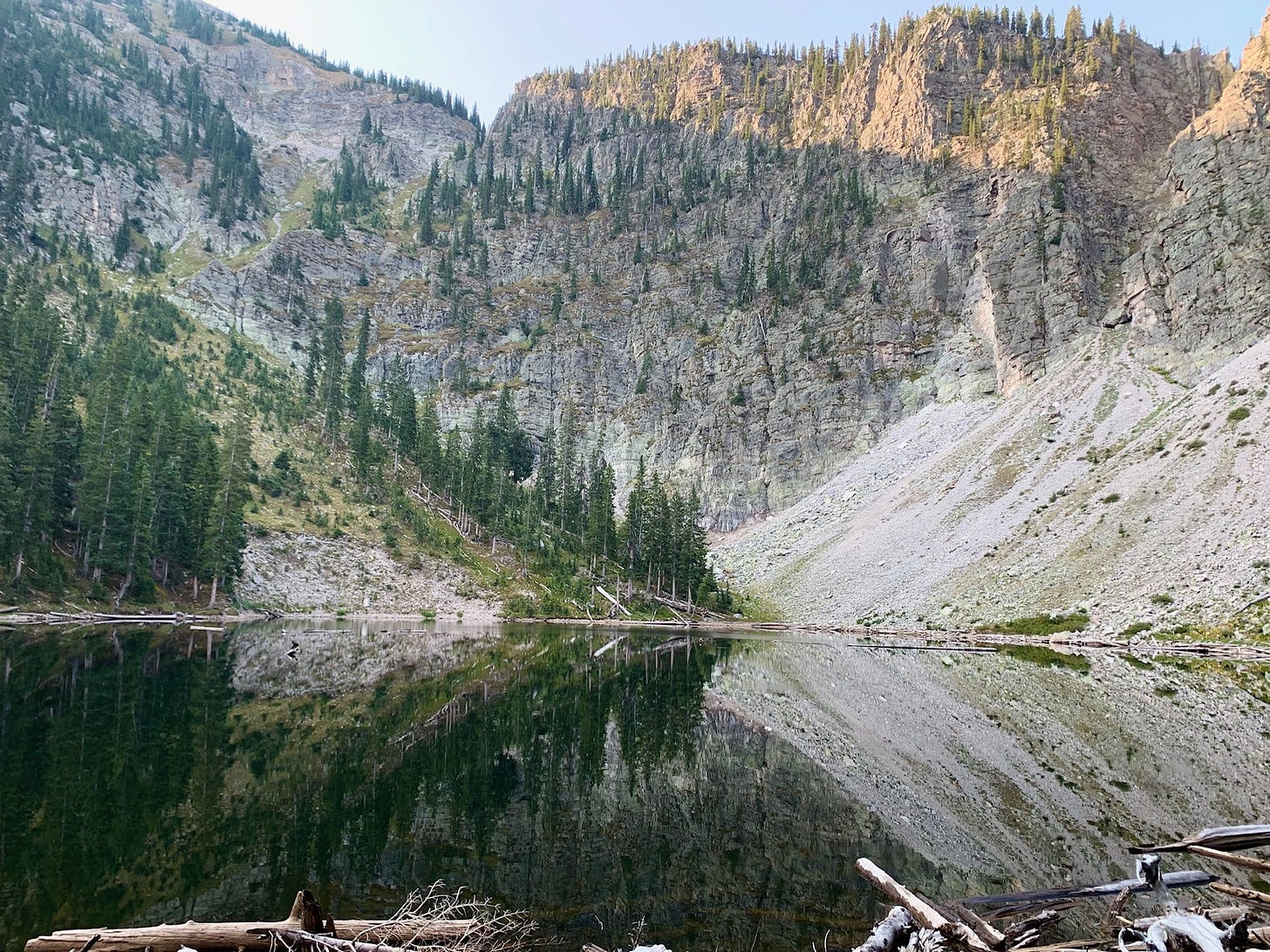 Hope you're feeling refreshed and ready to take on Monday, too.
What I'm reading (and watching and listening to)
This Man Cycled 2,700 Miles for People of Color: Black cyclist Jonny Altrogge shares why he biked the Great Divide Mountain Bike Route—and what he learned along the way. [Brian Osgood for Outside]
Life As a Black "Digital Nomad" Isn't the Same: Many people see working abroad as a privilege. For me, it's a way of escaping deadly racism in the U.S. [Imani Bashir for the Cut]
In Praise of the Adventure Dress: "Tearing it up in an adventure dress is the best way to flip the bird at the status quo. Wherever you land on the gender spectrum, rocking a dress can be a freeing experience, and it's unfortunate that the stigma deters people from enjoying it. After all, immersing yourself in nature is a way to check social constructs at the trailhead." [Alison Van Houten for Outside]
Outdoor Afro Seeks Black Joy by Finding Sanctuary — and Solace — in Nature: "When people start to see themselves reflected outside, they feel more comfortable," said one of the organization's Chicago leaders, Christine Meissner. "We're creating a network like a family." [Jade Yan for the Chicago Sun Times]
Are National Parks Really America's Best Idea? In an excerpt from his forthcoming book 'Leave It As It Is,' nature writer David Gessner examines the iconic conservation legacy of Theodore Roosevelt and unpacks the perception that the national parks and monuments he created were previously untouched and empty. [David Gessner via Outside]
Erin Parisi Is Climbing Out of the Shadows as a Transgender Athlete: "These mountains are metaphorically where the world can't push you into the shadows anymore. You're standing on the highest points of the world saying, 'I'm not hiding.'" [Sage Marshall for Westword]
The Politicians Who Really Want to Seem Outdoorsy: It's a performance that at the best of times feels pandering but, after three and a half years of the Trump administration, now feels downright hypocritical. [Wes Siler for Outside]
These People Of Color Transformed the National Parks: As the National Park Service aims to increase visitation rates among Black Americans, the discovery of these narratives can go a long way toward affirming our place within the heritage and legacy of public land preservation. [James Edward Mills for the Joy Project]
Mountain Time Is the Best Time Zone in America: Living two hours behind New York and one hour ahead of San Francisco allows you to roam free of their strictures. [Kyle Paoletta for The New York Times]
Women's Gear Still Isn't Where We Want It to Be: While outdoor retailers have moved beyond the "shrink it and pink it" mentality, there's still more work to do when it comes to inclusive women's gear. [Jenny Bruso, Shelma Jun, and Blair Braverman on the Women Who Travel Podcast]
No, Skiing Isn't a Welcome Place for People of Color—Not Yet: When 88 percent of skiers are white, we can't leave race out of it. [Garrett Schlag for Powder]
Black Joy in the Outdoors Exists. This Photographer Captures It. How L. Renee Blount, a.k.a. Instagram's @urbanclimbr, blended her passions for climbing, travel, and design into a budding photography career. [Christopher Keyes for Outside]
Last but not least
•I DO NOT FUCK WITH LEAVE NO TRACE• Before I continue with regular content, with the influx of new outdoors people, I need to clarify something. Then you can decide if you need to leave this platform.
🏕
I do not fuck with Leave No Trace. I created slides for some baseline education on how the organization does not serve non-White people. Swipe right.
🏕
It's ok if you didn't know before. I just ask you to consider these things before shouting at me not to geotag or to preach LNT to beginner campers.
🏕
I will always geotag. My target audience are POC who barely get any vacation, working 2 and 3 jobs just to get by. And so when we do get to do something FOR OURSELVES, I want us to see the most beautiful places the world has to offer. Geotagging helps them plan those trips. I will not gatekeep destinations. They are not mine to have. I do not have ownership of them.
🏕
I will never preach LNT. I will advertise local area rules & ask you not to be a basic bitch and follow whatever protocol is set up for that specific destination.
🏕
Not here to argue. You can watch HIGHLIGHT: LNT SUX when I was mad about it. But I'm not that upset anymore. Or listen to podcast
@hownottotravel
, episode 6-"The Problem With Doing It For The Gram" for an auditory educational lesson. For Deaf + HoH fam, the podcast is transcribed with sources linked out. Tap link in bio.