How Can We Stop Feeling Useless Right Now?
Plus, Kai Lightner speaks out about his eating disorder
Hi everyone. The first month or so of this isolation felt weird but doable, to me. But the past few days have been harder. The novelty of working, eating, socializing, exercising, and generally existing from home has worn off. I know I'm lucky to be healthy and safe, but I'm finding it exhausting to continue living through screens—and this is coming from someone who already spent 70% of her days on the internet, pre-pandemic.
But one thing that's really helped me is caring for my plants. There's something rewarding about seeing new leaves come in or giving crowded roots a new home. So I've gone into full plant hoarder mode, filling up our sunroom, our kitchen, basically anywhere with good light.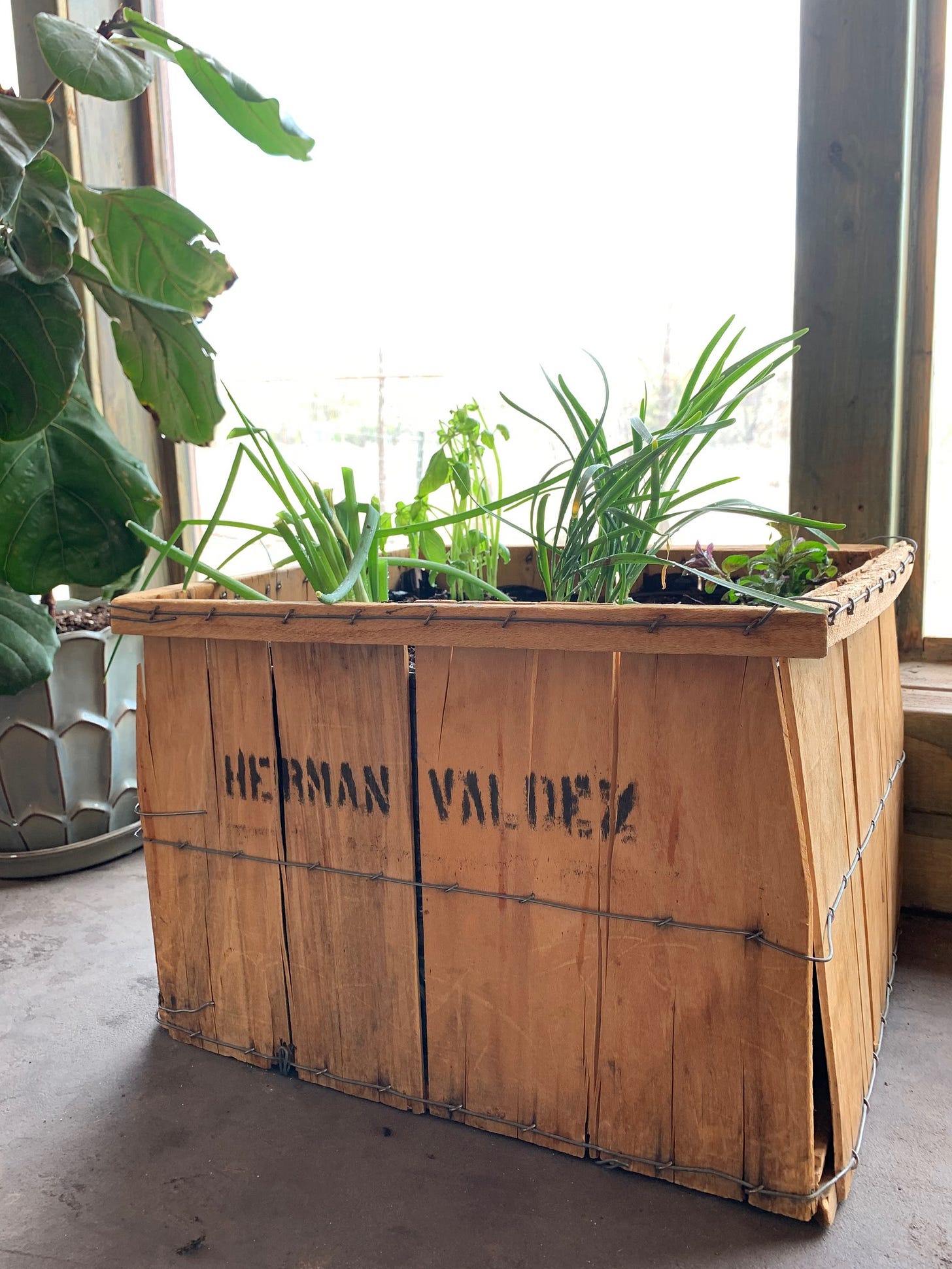 Here's an indoor herb garden box I put together a couple weekends ago
What I'm reading, the virus edition
How Can We Stop Feeling Useless Right Now? Staying home as much as possible is the most useful thing we can do. [Blair Braverman at Outside]
The Bizarre Intimacy of Group Fitness on Zoom: During the pandemic, everything happens on video chat—including exercising with strangers from the comfort of your home. [Leah Prinzivalli for Outside]
What Plants Can Teach Us About Survival: This study on "accidents involving flowers" is the most beautiful thing I've read during the pandemic. [Brian Resnick for Vox]
Inside the Controversial 6-Foot Social-Distancing Study: Last week a paper suggested that runners and cyclists need much more than six feet. The report went viral, and backlash ensued. But there was some legitimate science behind the claims. [Joe Lindsey for Outside]
The Nurse Who Came by Sea: "It really makes me hope and pray the public takes things seriously." [Laura van Straaten for New York Magazine]
What I'm reading, the think about something else edition
Should You Buy That? Thingtesting Has the Answer. In an era dominated by online shopping, dubious influencer endorsements, and trendy, direct-to-consumer gear, it's harder than ever to know who to trust. Jenny Gyllander, the mind behind the product-review Instagram account @thingtesting, is here to cut through the noise. [Leah Prinzivalli for Outside]
Kai Lightner Speaks Out About His Eating Disorder: Many male athletes struggle with eating disorders. By sharing his personal experience, Lightner hopes to let others know they are not alone. [Kai Lightner for Outside]
This Adaptive Skier Wants Outdoor Sports to Be for All: Vasu Sojitra didn't let an amputation stop him from skiing or climbing. Now he's turning his attention to advocacy. [Alison Van Houten for Outside]
Caster Semenya and the Cruel History of Contested Black Femininity: World Athletics' regulations targeting Caster Semenya are rooted in a long legacy of black bodies being held to white standards. [Elizabeth Adetiba for SBNation]
The Salmon Sisters Want to Teach You How to Cook Fish: Alaska's favorite fishing siblings have a new quarantine skill for you to learn: making seafood delicious. Their new cookbook breaks down everything from filleting a wild-caught salmon to steaming Dungeness crab—and we've included two easy recipes to get you started. [Sam Hill for Outside]
The Day I Decided to Stop Being Afraid of Heights: In an excerpt from her new book, Nerve: Adventures in the Science of Fear, Outside correspondent Eva Holland is paralyzed by fear while hiking down from an ice climb. The experience catalyzes a quest to understand and overcome her acrophobia. [Eval Holland via Outside]
Last but not least