Adventuring During a Pandemic and the Age of Social Responsibility
Plus, naked and very, very afraid
Wow, strange times. I hope you're all safe and healthy. I just got back from the Gila and returned to utter chaos. I'm worried for our health and for our economy, and I questioned whether I should send this newsletter at all.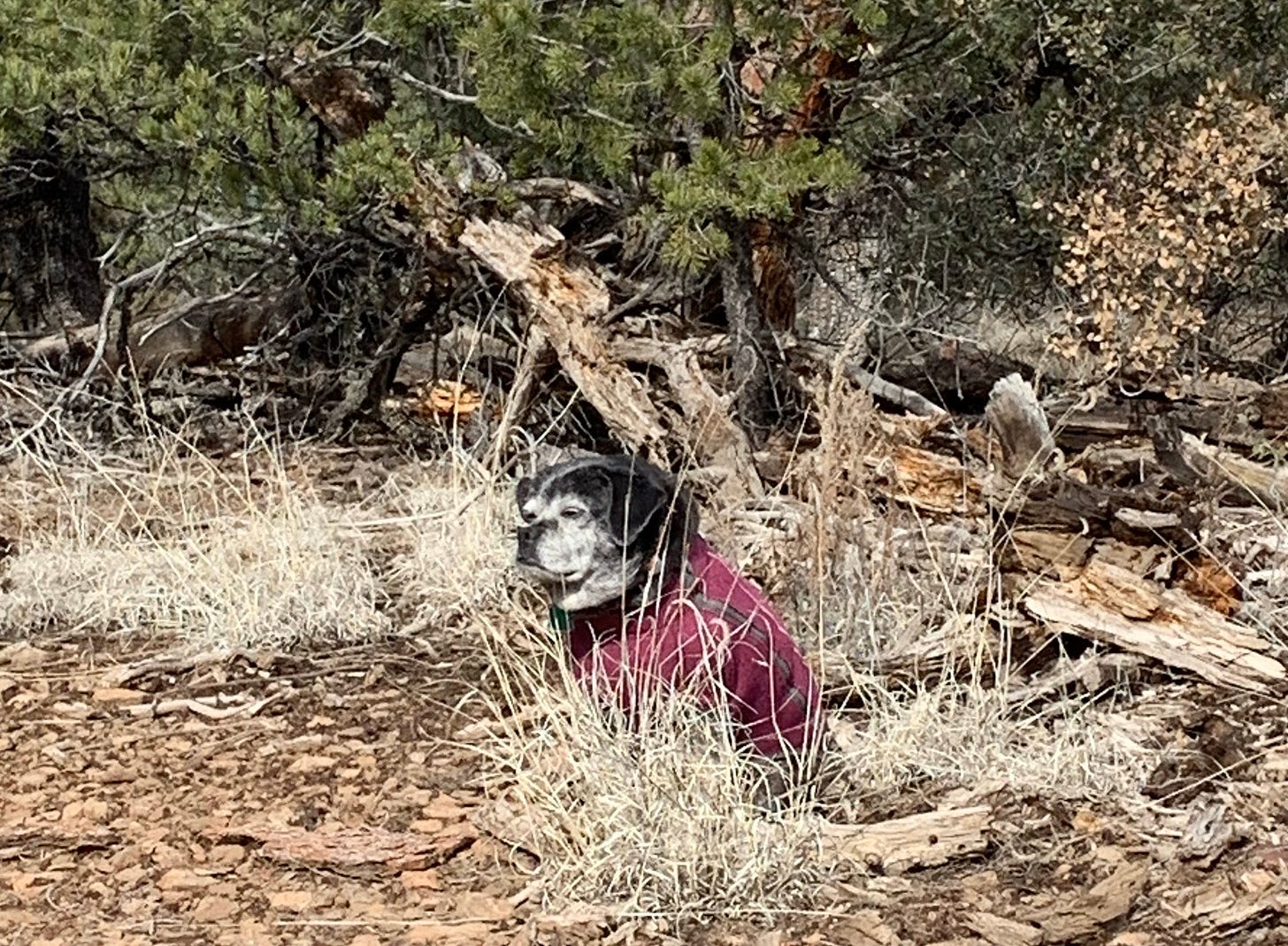 Photo: Stella practicing self-isolation

Ultimately, I decided to publish this week's edition with two sections: One for virus-related stuff and one for those of you who want to read about something else. I hope this helps, whichever version you're feeling right now.
What I'm reading, the COVID-19 edition
National Parks Are Still Open Despite COVID-19: Despite warnings about crowds and the spread of the coronavirus, the National Park Service is keeping most of its units open for now, but a number of parks are starting to close certain facilities. [Will Bostwick for Outside]
They Went Off the Grid. They Came Back to the Coronavirus. 25 days rafting through the Grand Canyon meant no access to the news—and a new reality when the trip ended. [Charlie Warzel for The New York Times]
The Coronavirus Outbreak Puts Running into Perspective: As the pandemic continues to surge and major races are canceled, we can return to running for its own sake. [Martin Fritz Huber for Outside]
Adventuring During a Pandemic and the Age of Social Responsibility: I was out for a walk because I'd turned down an invitation to meet some friends at a brewery. As I write this, there are no confirmed cases of COVID-19 in my county or any of the counties touching it, but that doesn't mean it's not here. [Krista Langlois for Adventure Journal]
Finding Peace in a Pandemic: The best way to de-stress during this frightening time is to look for safe opportunities to get outside. [Marc Peruzzi for Outside]
The Pandemic Comes to Bishop: A Small Climbing Community Struggles Beneath the Weight of COVID-19: This is the reality we exist in today, struggling to manage and mitigate the novel coronavirus. We're all potential vectors, at least partly due to the fumbling ineptitude of our governmental response. But I'm not here to point fingers at the government. That doesn't do any good anymore. I'm here to point my finger at you. At me. At the entire climbing community. [Dave McAllister for Thundercling]
Inside the Unprecedented End of the 2020 Ski Season: There's more at stake now than skiing, but it's OK to be bummed out about it. [Abigail Barronian for Outside]
What I'm reading, the think-about-something-else edition
Everything on 'Naked and Afraid' Is Real—and I Lived It: When the Discovery Channel invited me to audition for its popular survival-challenge reality show, I knew it was going to be rough. What followed was one of the most intense experiences of my life. [Blair Braverman for Outside]
The Killing of a Colorado Rancher: When Jake Millison went missing, his family said he'd skipped town. But his friends knew him better than that, and they refused to let him simply disappear. [Rachel Monroe for the Atlantic]
The Strange Underworld of Competition Ice Climbing: What does it take to grow a sport from scratch? A tight-knit community of passionate masochists. And some rusty farm equipment. [Corey Buhay for Outside]
Agent Provocateur Is Showcasing Elite Athletes in Sexy Lingerie: Is it a step forward or a great leap back? [Vanessa Friedman for The New York Times]
We're in the Middle of a Sports-Bra Revolution: Technological advances and a growing line of research have paved the way for a new class of support systems that are comfortable, look good, and fit a wide(r) variety of bodies. [Ariella Gintzler for Outside]
Meet Quince Mountain, the Iditarod's First Publicly Transgender Dog Musher: Along with his 14 dogs, Mountain is competing in the 1,000-mile sled race through the Alaskan wilderness. He expects to finish in 12 days. [Julie Compton for NBC]
Outdoor Voters All Want the Same Things: As more states hold—or decide to postpone—presidential primaries, a new poll of Mountain West voters shows that a clear majority support climate action, clean air and water, and public lands protection. [Heather Hansman for Outside]
California Burning: A year after the Camp Fire, Tessa Love contemplates home, California's undoing, and what it means to belong. [Tessa Love for Longreads]
The Forgotten History of the Black American Cowboy: For decades, the cowboy has occupied a storied place in Americana—but the image in popular narratives excluded cowboys of color. This year the National Cowboy Poetry Gathering and Grammy-winning musician Dom Flemons sought to change that. At the event, held in Nevada earlier this winter, the theme was the same as Flemons's 2018 album: black cowboys. [Rory Doyle for Outside]
How Outdoor Voices, a Start-Up Darling, Imploded: The founder was pushed out after clashing with experienced executives, highlighting a generational and gender divide within the clothing retailer. [Sapna Maheshwari and Erin Griffith for The New York Times]
America's Richest Mountain Town Is Its Most Unequal: 'Billionaire Wilderness,' by Wyoming native and Yale sociologist Justin Farrell, asks hard questions about how money changes American land by investigating one of the West's most beloved outdoor playgrounds: Jackson Hole. [Heather Hansman for Outside]
Last but not least